Become part of our dedicated team of Adult Volunteers who help 1st Burford run successfully
Mike is our Assistant Scout Leader and serves in the RAF
How do you balance being a Scout Leader and being in the RAF?
I'm currently based at RAF Brize Norton in a full on role. I've also been lucky enough to spend the last few years able to attend most weekly scout meetings, whilst serving at a number of stations within an hour of Brize.  This convenience won't always be the case, but we balance across the leader team very well and ultimately cancel a meeting if we can't find enough leaders and parent helpers to make it viable. We had around 6 leaders earlier in the year – a couple got posted away (both from Brize). We're keen to get back to that original number to give us some flexibility. Extra hands make all the difference.
What benefit do you get from being a leader?
A few things.  Firstly, being part of a team (outside of work) that is focused on helping young people is rewarding, fun and a nice distraction from the day job.  Secondly, the Scouts themselves are interesting and enthusiastic so there's an incentive to offer them good experiences, whatever their ability or family background.  Scouts is a great leveller for them. Finally, it develops me as a person, keeping me in touch with the non-RAF community that we live in and teaching me skills that we just don't use inside the Service.
How does military experience help you in Scouting?
In lots of ways.  Practically, lots of military skills (eg camping, hiking, survival, first aid) can be directly taught to scouts.  We have a policy that formal learning is optional but validation is essential, so you don't have to re-do courses if you can demonstrate to a qualified training advisor that you already know your stuff – you just top-up. It calls us leaders for a reason and the harder part of the job really is developing the Scouts as people rather than just organising activities.  Some admin skills are required and transferable, but a nifty web app makes our planning and payment side pretty straightforward.
Is becoming a leader a big commitment?
It's as much or as little as you can give.  Some people would like to help but within a narrow 'back-office' boundary, such as processing subs or badges.  Others want to run evenings and camps. Both types of people take a share of the overall burden. We'd like full-up leaders to be able to make most evenings but we appreciate all offers of help and fit your role to the amount of time you're willing and able to contribute.  We totally accept that this can change as life's demands change.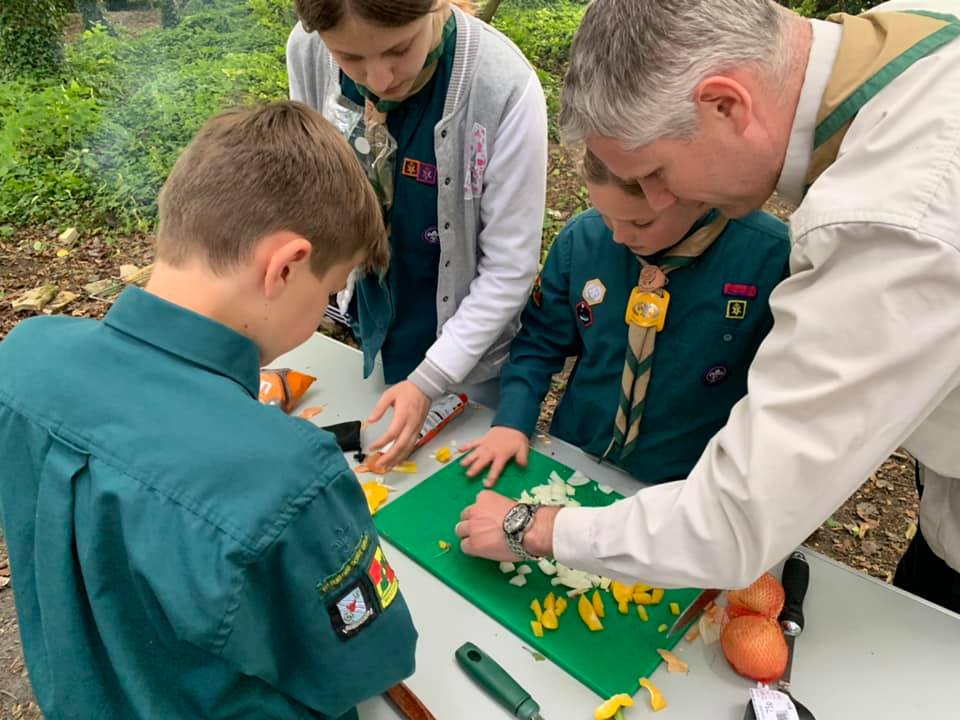 How well do you get on with other leaders?
Probably worth asking them!  Genuinely, really well. To the point that we'd gladly accept excuses to socialise, sometimes under the premise of a 'planning meeting'.  We cover for each other's absence often and have a healthy relationship with the beaver and cub section leaders too. Every now and then we trip over each other's planning, which is inevitable, but we've never fallen out.  Communication makes all the difference.
 What are the next generation like to lead?
It's hard to know how different they truly are.  It would be easy to presume that Scouting is losing ground to the likes of Fortnite.  We just don't see that. Scouting is growing hugely, and all groups have waiting lists.  The Scouts live in an increasingly digital and sanitised world, so they really enjoy getting their hands dirty: shelter building, burning logos into wood, playing wide-games, solving puzzles and a bunch of adventurous activities.  They'll still go home tired to play on their consoles after meetings and camps, but they really aren't that different from you or I back then. It's about broadening their horizons and training them to become responsible citizens in a society that doesn't often put much effort into doing that.  I like the next generation – they fill me with hope – but I don't categorise them and make assumptions or it can become self-fulfilling.
What's the most disappointing meal you've been fed in Scouts?
One that I've allowed the Scouts to make for me – sorry Scouts!  But, I still have to eat it. They are very good at making curry and chilli though – which is a safe bet and my personal favourite foods.